FAQ: FILL SHOPPING CART AUTOMATICALLY (IMPORT MATERIAL REQUISITIONS & PARTS LISTS)
Direct ordering allows you to fill your shopping cart quickly and efficiently. The requirements are: the article numbers and number of products which will be ordered are already known or the corresponding CSV files have been created in advance.
Click on direct order in the upper area of the online store.
Now select one of the options described below to fill your shopping cart quickly and easily:
Copy and Paste
By using Copy and Paste you have the option to copy and paste the desired items from an Excel spreadsheet based on the item number and the desired quantity to be ordered in three simple steps.
Step 1
Copy item number and desired quantity from an Excel spreadsheet to the clipboard (without header / headers).
The structure of the table must exactly as in the example on the right, left column item number, right column quantity per position in integral numbers.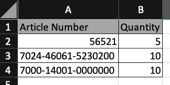 Step 2
Paste the copied data into the text field that appears after clicking the Copy & Paste button (1 and 2). Then import the order data by clicking on Import data (3).
Step 3
Check the transferred data (1). If all data is correct, click on to real time pricing (2) and add the items to the shopping cart.

Input by hand
Input by Hand allows you to enter products and quantities by hand if you already know the product number.

Select Input by Hand
Enter the desired article numbers and the corresponding quantity
Click on to real time pricing and put the articles in the following step into your shopping cart.

Upload CSV-File
By usingUpload CSV-File you can easily import a CSV file that was exported from your ERP system as an order.

Select Upload CSV file
Start the function via the Select File button and navigate to the CSV file you want to import. If necessary, adjust the import options according to your file format:
Header: If there are headers in the first line of your CSV file, please activate this option.
Field separator: Select the appropriate separator that separates the individual fields (columns) in your CSV file.
Text separator:: Select the appropriate sign that encloses the individual values in your CSV file.
Start the import by clicking next. If the items were imported correctly, you can continue with to real time pricing and then add the items to the shopping cart.

If the upload of the CSV file fails, please check the import parameters (see 2.)
Cable butler
If you use the cable butler concept of Murrelektronik GmbH you have the possibility to import the generated CSV files.

Click the button Cable Butler

Start the function via select file and select the file to import
Continue by clicking next. After successfully importing the data, you can now add the products to your shopping cart after clicking to real time pricing.